Week 8: Choose the Right Broadhead
Mar 1, 2015
We're getting serious now. It's time to choose what broadhead we are going to use this season. It's one of the most important choices you will make.
Yeah, we know that if you put the arrow where it needs to be, almost any broadhead will do the job. But this is bowhunting, and we make mistakes. As bowhunters, we strive to make the perfect shot, but here at Wasp Archery, we hang our hat on crafting broadheads that will perform when something gets in the way of a perfect shot.
Wasp Archery's three main focuses when it comes to manufacturing a broadhead are:
Reliability
Superior Quality
Cost
These characteristics are important to us, because they are important to our customers. So, let's talk a little about how each element factors into the decision of choosing the best broadhead for you.
Reliability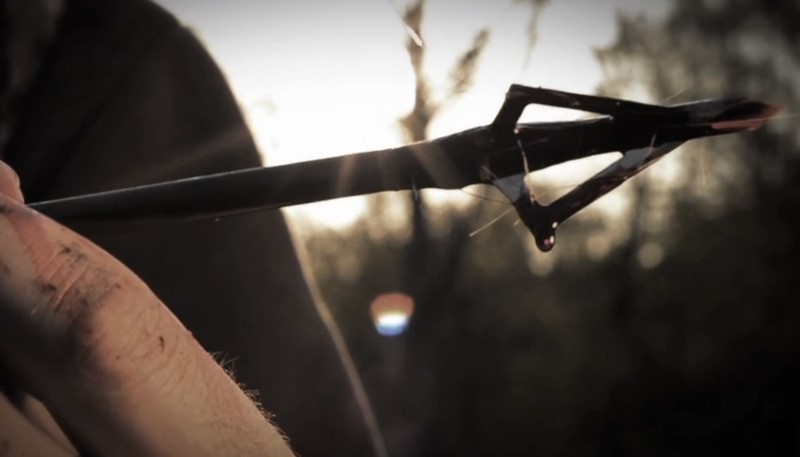 The job of a broadhead is to penetrate the vitals, pass-through the animal and create two holes for a faster kill and better blood trail. That's the goal. But choosing the wrong broadhead can interfere with achieving it. It comes down to choosing the correct cutting diameter and style of broadhead for the type of bow you shoot and game you are after. Below is a chart to help choose The Ultimate Broadhead™ based on your bow setup and type of game you are pursuing.
Note that the recommended broadheads listed in each section are ordered on a scale. For example, if your bow falls in the "heavyweight" category, but you shoot a lighter arrow (8 GPI) and draw weight (60 lbs.), choose a broadhead near the top of the list. If you are on the other spectrum of the scale, choose one from the bottom of the list. 
Bow Setup

Deer/Antelope/Black Bear

Elk/Moose

Heavyweight 

DW: 60-70 lbs.

DL: 28″-31″ 

Arrow: 8-10 GPI

SharpShooter Traditional

SharpShooter 

Drone

Boss

Hammer

Boss 4-Blade

Light Heavyweight

DW: 50-60 lbs.

DL: 27″-29″ 

Arrow: 8-9 GPI

Drone 

Boss

Hammer

Jak-Hammer 1/4

Dueler @ 1.5″ 

SharpShooter Traditional

SharpShooter

Bullet

Boss

Drone

Super Heavyweight

DW: 70+ lbs. 

DL: 28″-31″

Arrow: 9-11 GPI

Drone

Boss 4-Blade

Z-Force

Jak-Hammer

Jak-Knife

Dueler @ 2″

SharpShooter Traditional

SharpShooter

Drone

Boss

Hammer

Flyweight

DW: 60-70 lbs.

Arrow: 6-7 GPI

SharpShooter Traditional

Bullet

Drone 

Hammer

Jak-Hammer 1/4″ 

Dueler @ 1.5″

Z-Force

SharpShooter Traditional

SharpShoooter

Woman's/Youth

DW: 50 lbs. or less

DL: 27″ or less 

Arrow: 8-9 

SharpShooter Traditional

SharpShooter

Bullet

Drone

SharpShooter Traditional

SharpShooter
Superior Quality
There's a lot you can't tell about a broadhead's quality standing in the aisle of a sporting goods store. They all claim huge blood trails and field-point flight. They all claim to be the sharpest. 
After 40-plus years of making broadheads, we have the process down. The tips of Wasp broadheads feature solid stainless-steel which is machined, hardened and hollow ground to a near razor edge. They are pressed onto a solid body under hundreds of pounds of pressure and never screwed on or held in place with tiny pins or screws. Our tips will not come off or out of alignment with the blades.
This construction creates a more consistent flying broadhead and greater penetration. It also takes a lot of stress off the blades and leaves less chance for failure and less chance for breakage, while allowing for deeper penetration through a harder substrate. If you need to go through bone, your broadhead will break the bone with the tip in the same place the blades will pass through.
And be wary of companies who do not proudly note their broadheads are made in America. They may be assembled here, but are not truly "made" here. It's a sign that the manufacturer is cutting costs of craftsmanship and raw materials. Wasp Archery uses only American raw materials. Your broadhead is put together and tested by our employees, who hunt themselves, before it leaves it our factory.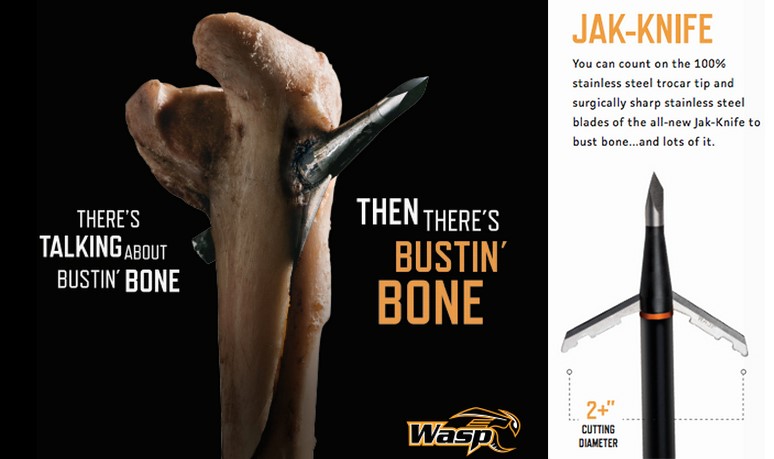 Cost
Let's say you want a 3-Blade mechanical broadhead, like the Jak-Hammer. Let's compare cost and specs to other broadheads: 
| | | | |
| --- | --- | --- | --- |
| | Wasp Jak-Hammer | G5 T3 | Rage Kore |
| Blade Thickness | .036″ | .030″ | .035″ |
| Cutting Diameter | 1.75″ | 1.5″ | 1.6″ |
| Cost of Replacement Blades | $14.99 | $22.99 | $24.99 |
| Star Rating on cabelas.com | 4.7 Stars | 4.1 Stars | 1.2 Stars |
| Price + Shipping on Company Website | $36.59 | $47.99 | $58.99 |
As you can see, Jak-Hammer gives you the best value and proven performance. This holds true for our other broadheads. And most of our fixed-blade broadheads come with 2 sets of replacements blades.
We hope this helps you pick the right broadhead for your needs. So many archers start the season at a disadvatange because they are not using the right broadhead for their setup. If you have any other questions, comment below or holler at us on Facebook. If you are ready to buy your broadheads, shop now, and with our quick shipping, you will have them in hand next week…just in time for sighting in with broadheads. 
View All Posts