Stop blaming your broadhead and start shooting Wasp
You've heard the stories. If only my broadhead hadn't failed me, I would've had the biggest buck you'd ever seen. Actual size of the escaped beast aside, there's one thing that's always true about these stories: the hunter wasn't shooting Wasp.
There's a good reason Wasp broadheads have been trusted by hunters and feared by animals for over 45 years. A lot of good reasons, actually. We give you unsurpassed accuracy, strength and penetration so you can experience the best blood trails of your life—and you'll never have to blame your broadhead again.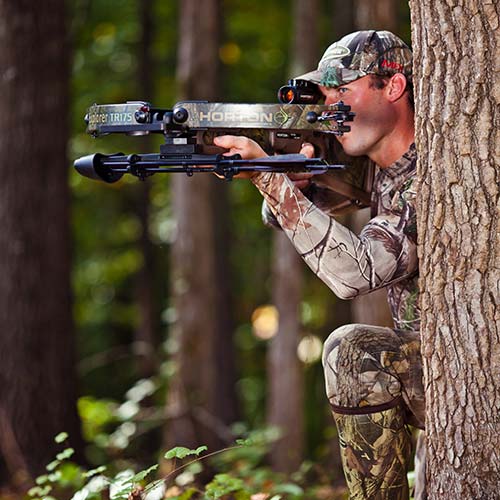 Nothing penetrates or devastates like a Wasp.
In a world where more broadheads are sold because of who shoots them than how well they perform, it's time to reconsider what's on the end of your arrow. No manufacturer claims their broadheads are weaker, less accurate or less devastating. So how can we definitively say our broadheads are unsurpassed in strength, accuracy and penetration? Here's how:
We made the world's first commercially available replaceable blade broadhead
Over 45 years of American innovation
Replacement blades included with most broadheads
Our products are loaded with time-tested technical features that deliver proven performance on every shot
A true trocar tip that creates a sharp, strong leading edge for the blades to follow
Tough broadheads that resist bending and breaking even on contact against hard surfaces
Features that kill your target and the competition
Wasp broadheads are built on the back of over 45 years of innovation. We're the ones who invented the first replaceable blade broadhead – but we didn't stop there. Through continuous refinement and commitment to quality, we've helped thousands of hunters take down targets that might've gotten away if they'd been using an inferior broadhead. And we've always built our products with the best materials available to ensure you get the highest quality, even if that means a little less profit for us.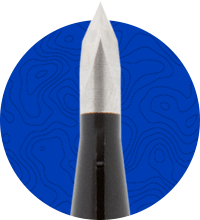 Stainless Smart Tip
The edges of the SST tip line up with each blade and pave the way through bone and tissue, creating pathways for the blades to follow, resulting in better penetration. Not held together by tiny screws or pins, but pressed onto the ferrule, it will never come off or out of alignment. It's one Smart tip!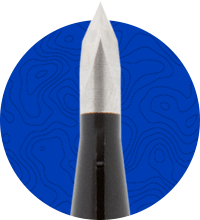 Razor Sharp Blades
We harden our blades to a point where we can get a razor-sharp edge while still being flexible and not brittle. This allows them to bend and not break if they have to crash through bone.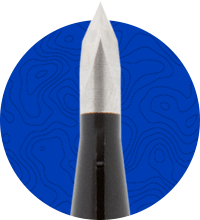 Field Point Accuracy
Our heads are designed to fly perfectly when shot from a well-tuned bow, but some of our heads feature a compact, reduced surface area to be more forgiving. Because let's face it, things happen, tuning issues arise, and you still need to hit your target.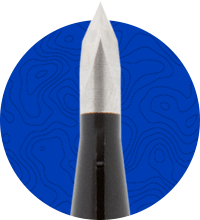 Reduced Surface Area
The smaller the surface area of a broadhead, the more forgiving it is. For more than 40 years, we have worked on designs to find the best combination of strength and accuracy and used the best materials for a perfect flying broadhead that blows through bone and cartilage.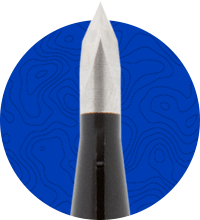 Max Cutting Surface
Mechanical broadheads allow for more cutting surface, which equals more damage. With our dangerously sharp stainless steel blades that hold tough during penetration, you can be sure you are making the most of big-cutting broadheads.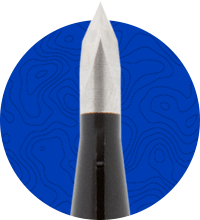 O-Ring System
Our O-Ring System requires the least energy for deployment while offering the most reliability. Once the O-Ring deploys, the blades are allowed to release simultaneously, unlike independent blade locking systems, which require each blade to deploy independently. Made of super tough neoprene, the O-Ring material will never weather, crack or break down, even in freezing temperatures.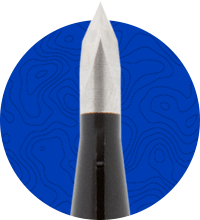 One-Piece Slotted Ferrule
The ferrules are the backbone of our broadhead designs, keeping everything in perfect alignment and minimizing flight issues. They are strong, always perfectly straight and designed to make changing blades simple. And none of our ferrules are of a powdered process like many of our competitors.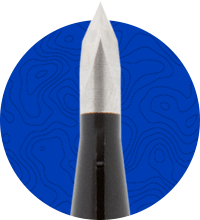 Adjustable Cutting Diameter
Now bowhunters can match the cutting diameter of their broadheads to their situation, the game they are after or their bow setup without having to change blades or broadheads. By simply rotating a washer, the blades will open to the desired cutting diameter.